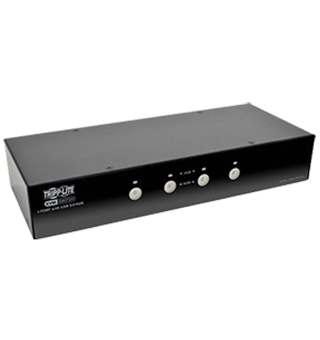 Desktop KVM Switches
A desktop switch allows you to access, control, boot and reboot up to four computers from a single KVM console (keyboard, mouse and monitor). You can switch between the computers with hot keys, software or convenient port selection buttons on the front of the switch.
Share peripherals such as printers between all computers; select models allow you to share audio/video components
Models are available to support all platforms, including Windows, Mac, Linux and Sun
Rackmount KVM Switches
A rack-mount KVM switch gives you secure and convenient rack-side access to multiple servers running multiple platforms. The switch occupies just 1U of space in your rack.
Choose from models with 4, 8, 16 or 32 ports
Switches with IP remote access give you control of connected servers over your LAN or the Internet, so you can manage your systems from the next room or from halfway around the world
Rack LCD Console
A console KVM switch combines an 8- or 16-port switch with a full-sized keyboard, touchpad mouse and a 17" or 19" LCD. The entire package folds like a laptop and slides into 1U of rack space, providing compact storage and easy access.
A heavy-duty enclosure, high-quality LCD, premium connectors and uncomplicated controls ensure trouble-free operation in demanding high-availability environments
Like other rack-mount KVM switches, you can opt for a console KVM switch with IP access to enable remote monitoring and control of your systems over your network or the Internet
Rack LCD Console (No KVM)
In just 1U of rack space, you can add a KVM console featuring a full keyboard, touchpad mouse and 19" LCD.
Connects to a computer, server or your current KVM switch
Folds up like a laptop and slides into the rack for easy out-of-the-way storage when not in use
Remote Access IP
Control your servers from anywhere in the world. An IP KVM switch includes built-in IP remote access (also known as KVM over IP), so you can manage servers over a local network or over the Internet through a standard browser or multi-platform client software.
An IP KVM switch is ideal for managing mission-critical systems – password-secured BIOS-level access allows you to solve complex problems efficiently and restore service before downtime hurts productivity
Choose from models with 8, 16 or 32 ports; console models include a built-in LCD, touch-pad mouse and full keyboard